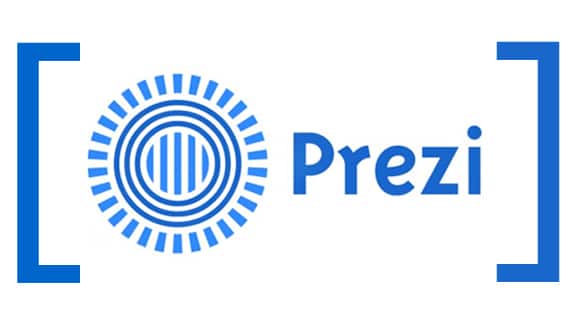 Prezi is an online tool you can use to create bold, dynamic presentations.
Storytelling is the key to good presentations.
With Prezi, traditional slides make way for a more interactive and engaging narrative format.
The Prezi training we provide can be tailored to your organisation and delivered either in your workplace, as a webinar or in one of our own training rooms. You can also sign up to one of our many small group sessions.

Discover our training courses scheduleContact us


Objectives
By the end of the training course, participants will be able to:
Create presentations, videos and designs using Prezi
Create a presentation storyboard
Create dynamic presentations using rotation and zoom effects
Export and share presentations.
Content
Introduction to Prezi: Concept and usability
What are the key features of Prezi?
Creating and structuring presentations with graphics and appealing visuals
Inserting objects (files, images, videos) and hyperlinks
Using videos and external media
Grouping your points (frames)
Refining the presentation structure
Running an online Prezi and sharing on social media
The limitless possibilities for Prezi presentations
Converting a PowerPoint into a Prezi presentation
What are the best practices for presentations (advice and traps to avoid)
Tips and tricks
Putting it into practice – Exercises
Prerequisites
Basic knowledge of PowerPoint, Sway or Keynote.
Target audience
Anyone who needs to create appealing, dynamic multimedia presentations.
Created and launched in 2009 in Budapest, the Prezi application can be used to create dynamic, interactive and highly intuitive presentations. Prezi is an attractive alternative to PowerPoint as it has an extremely simple interface that offers many different options for you to try. Increasingly used by businesses and students, we provide Prezi training to help you learn how to use this software effectively.

Discover our training courses scheduleContact us

Storytelling with Quality Training's Prezi course
Prezi is an online-only tool, enabling users to design extremely stylish presentations that use storytelling techniques. Prezi is not just a slide-sorting application. The tool's interactive format invites you to tell your audience a genuine story.
Quality Training provides specialist training in tools and software that can really add value to organisations. On this course, you'll learn to get the best out of Prezi. At the end of this highly interactive session, you will have all the skills you need to be able to create a full presentation or some videos.
You'll also learn how to create dynamic, animated presentations using zoom and rotation effects.
Prezi is being used increasingly in the business world and is the perfect way to run meetings in a more animated way, showing your presentation in a non-sequential fashion to echo your target audience's train of thought.
Prezi course objectives
The key features of Prezi are:
creating,
exporting,
and sharing dynamic presentations
The software is highly intuitive and includes many features in the free version. If you upgrade to premium, you'll have access to extra features to help you deliver higher quality presentations that are even more impressive.
On this training course, you'll learn how to use Prezi, including the idea behind it and the key features of this tool. Accompanied by a qualified trainer, you'll be able to practise creating presentation materials with high-end design and appealing visuals. You'll also see how to insert images, external media and hyperlinks.
The key feature of Prezi is the ability to manage a number of projects directly online and once you've finished your designs, you can share them on social media in just a few clicks.
During the training session, the instructor will be available to give you advice and tips, such as a feature that enables you to convert a PowerPoint into a Prezi presentation, which can be a huge time saver if you want to use and update a previous project.