Training Details
Explore BI in Excel!
In-Person / Remote?
Both In-Person and Remote
Level
Advanced
Prerequisites
Familiarity with Excel PivotTables.
Target Audience
Anyone interested in analyzing and visualizing data from multiple sources.
Objectives
By the end of this hands-on training, participants will be able to:
Import data from multiple sources
Transform data into usable tables
Create a report in a Power BI environment
Filter data
Create a dashboard
Share reports with others
Detailed Program
Introduction to Power BI
General overview of Power BI
Power BI modules
Getting Data

Connecting to data from Power BI Desktop
Cleaning and transforming data
Handling irregularly formatted data
Query Management

Importing data from various sources
Data transformation (removing duplicates, deleting records, filtering, column splitting, etc.)
Merging multiple files
Modeling

Data model and relationships between data
Creating calculated columns
Optimizing the data model
Creating measures
Dealing with time-based data
Creating calculated tables
Report Creation

Creating a simple visualization
Combined charts
Using segments
Using maps
Tables and matrices
Scatter plots
Advanced charts
Gauges
Color management
Improving formatting
Creating interactions between visualizations
Handling missing data
Managing visual hierarchies
R visuals in Power BI
Exploring Data

Data exploration
Creating and configuring a dashboard
Asking questions in natural language (CORTANA)
Creating custom Q&A (CORTANA)
Sharing elements
Publishing and Sharing

Publishing and sharing
Publishing reports from Power BI Desktop to the Power BI service
Printing and exporting dashboards
Publishing and refreshing data
Introduction to DAX

Types of calculations
DAX functions
Variables in DAX
Table relationships and DAX
DAX tables and filtering
Duration
2 days
Quality Training's Power BI Course
After more than a decade of operation, our organization, Quality Training, continues to support your professional development by offering a wide range of office-related trainings. Do you want your teams to learn how to use Microsoft Excel intelligently and efficiently, one of the most powerful software on the market? For this purpose, we offer personalized training tailored to your needs and industry. This training can be delivered remotely from your home or directly at your offices, helping you increase productivity and performance using the interface's numerous tools.
What is Power BI Used For?
Power BI is a data analysis solution by Microsoft. This tool allows users to easily connect to data sources and share information with chosen recipients. Comprising software services, connectors, and applications, Power BI transforms data sources into immersive and interactive visual information. Over the course of our two-day training, our experts will guide you through mastering this comprehensive solution, initially appearing complex. Power BI consists of several components that work together: a Windows desktop application, an online software service, and mobile applications for iOS and Android devices.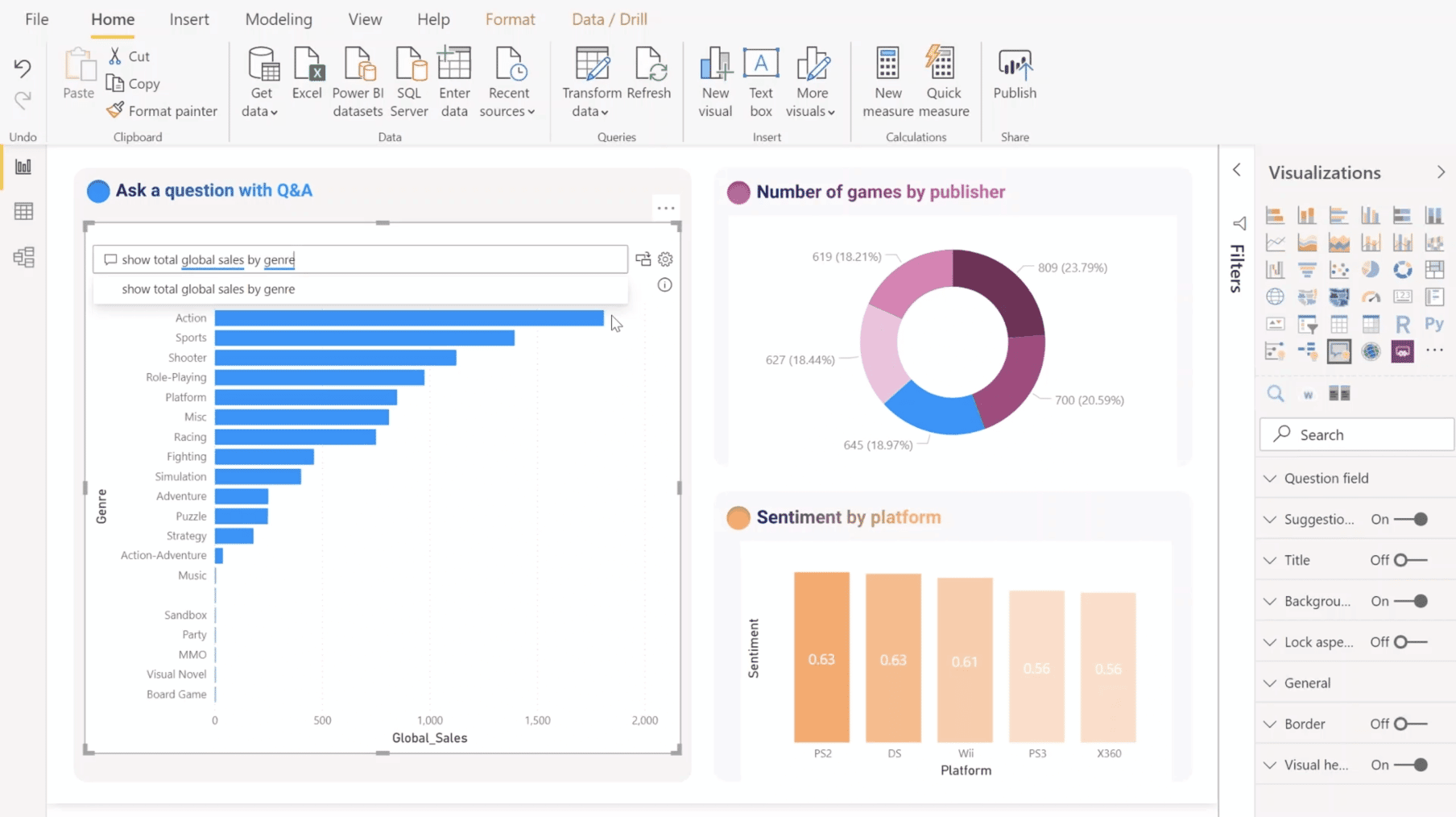 Topics Covered in the Training
Adapted for anyone interested in analyzing and visualizing data from various sources, our training covers numerous topics to help you master all aspects of the tool. Through technical and hands-on exercises, you'll learn to import data from diverse sources, transform it into tables, apply filters, and create dashboards for effective report sharing. Please note that this list is not exhaustive, and our training is adaptable to meet all your needs.
Getting Data
Data exploration is at the core of Power BI, serving as a perfect complement to Microsoft Excel. The tool's value lies in its ability to connect various data sources, which may be drastically different, through the Desktop version of the software. This process allows for thorough data cleansing and treatment to enhance the quality of your data sources.
From here, you can create charts and dashboards to gain comprehensive insights from your data.
Throughout the training, we'll cover the different types of data sources you can connect to using Power BI.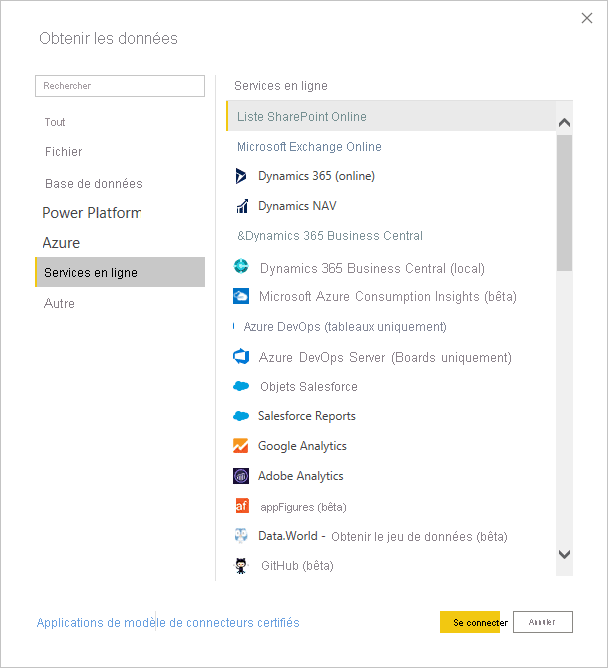 Query Management
With Power BI, you can effectively manage and locate your queries. After importing data from various sources, you'll be able to quickly locate specific queries to perform necessary actions. For instance, you can remove duplicate queries, split columns, use filters, or merge multiple files into one. Numerous practical workshops during the training will ensure you gain full control of this aspect of the software.
Modeling
While data import and query management are vital steps to succeed in Power BI, modeling remains fundamental. This step involves optimizing data relationships to enhance their completeness, including creating calculated columns and measures. Although occasionally complex, this process is highly intuitive. To quickly grasp these concepts, we recommend participants have a basic understanding of Excel, particularly with PivotTable design.
Report Creation
A report visually represents a dataset, highlighting results from data import and manipulation. Throughout the two-day training, you'll learn to make direct modifications to your Power BI report. This includes adding titles, applying background colors, modifying result titles, using filters on specific fields, and adjusting borders. The aim is to create interactive and professional visuals to share with your team or potential clients. Furthermore, you'll learn to manage missing data and visual hierarchies.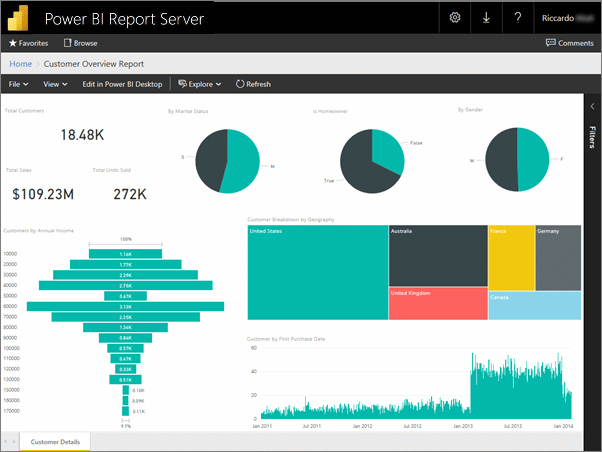 Exploring Data
After importing and exploring different data sources, Power BI empowers you to create and configure a relevant dashboard. This dashboard can incorporate multiple tiles for a comprehensive report targeting your audience. The tool also enables you to share these elements and create custom Q&A features. Additionally, Power BI allows you to publish reports from the Desktop version to the Power BI service, refresh data over time, and print your dashboards.
Introduction to DAX
During these two days of training and initiation into Power BI, we'll dedicate time to understand the DAX language and its significance in your professional life. DAX assists in generating information from existing data within a model. Learning to create effective formulas using DAX will allow you to maximize the potential of your imported data and address complex challenges in your business. While Excel allows for straightforward data analysis without DAX, this language becomes invaluable for tackling more intricate scenarios. Throughout the training, you'll learn to comprehend and utilize various formulas and functions characteristic of DAX, as well as how to establish table relationships.
Becoming an Excel Expert with Quality Training
With over 10 years of experience, Quality Training has become a recognized reference, offering high-quality office-related training for businesses. Regardless of your position within the company, whether a manager or an employee, we're here to help you enhance your productivity within the organization. If you want your teams to better utilize Excel and its diverse functionalities, our certified trainers are ready to assist you through a fully customized session. In our Excel training, we offer the opportunity to become more proficient by delving into the fundamental functions of the software, such as creating charts, managing PivotTables, mastering basic functions and formulas, analyzing data with Power BI, and exploring macros. If you're eager to delve deeper into the Excel interface, don't hesitate to join us!