Take a PowerPoint course with Quality Training
Learn to create professional, engaging presentations on this PowerPoint training course. Including slide creation, slide masters, aesthetics, animations, transitions, inserting photos, diagrams, videos and links, you'll become a real PowerPoint expert! Our PowerPoint training can be customised and run in your workplace, as a webinar or in one of our training rooms. You can also sign up to one of our many inter-company sessions.

Discover our training courses scheduleContact us


What you'll learn on our PowerPoint course
When you create a PowerPoint presentation, you want it to be clear, dynamic, appealing and concise. Our trainers will teach you to format, arrange and summarise your ideas. An attractive and efficient presentation will help you convey your message more effectively.
You'll also learn about the latest features to be added to PowerPoint, so you'll be prepared as each new version of the software is released. It's so important to stay abreast of new technology.
By the end of this training course, you'll be able to create engaging and professional PowerPoint presentations.
PowerPoint course content
Grabbing people's attention:

Structuring your message;
Choosing fonts, combining colours, brightness, etc.;
Aesthetics (e.g.: Maximum number of lines per slide, maximum number of words per line, balance and readability of slide contents, number of minutes per slide, etc.);
Visual appeal of the presentation and slide consistency;
Good practice for creating appealing presentations.

Reminders for creating presentations:

Inserting objects such as photos, graphics, flowcharts, Smart Art, etc.;
Managing backgrounds;
Video and sound.

Using the Slide Master and advanced options to best effect;
Handling notes and comments;
Presenter view;
Links:

Linking two slideshows;
Linking to a website (adding, updating and deleting links);
Linking to an Excel sheet or Excel chart.

Animating objects

Effects;
Sound;
Sequencing;
Automation.

Slideshow settings:

3D slide transitions;
Autoplaying on a continuous loop and scrolling;
Choosing slides.
Numerous tips and tricks.

Discover our training courses scheduleContact us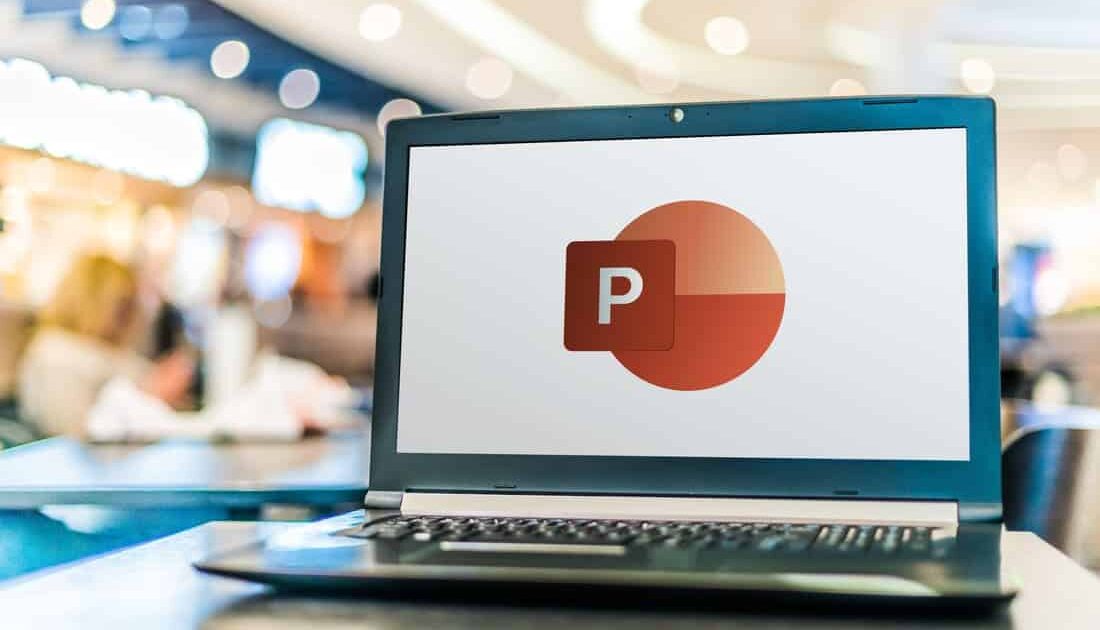 About Quality Training's PowerPoint training
Quality Training's PowerPoint course will teach you to handle all of the features of this software to create appealing, high-quality presentations. Save time by understanding the basics of this office application.
PowerPoint is primarily a tool for presenting projects. Our PowerPoint training will teach your teams to:
Create clear and effective presentations;
Plan and organise their work and ideas;
Bring their ideas to life in a dynamic and consistent way.
You can customise colours and fonts and also create diagrams and graphics that will make your presentation easy to understand and visually appealing.
Why do a PowerPoint course?
By using PowerPoint to create effective presentations, your teams will increase their credibility. Quality Training will teach them simple, time-saving tips. The time they save preparing their presentation can be reinvested in their day-to-day work.
PowerPoint is one of the most commonly used presentation applications and is part of the Microsoft Office suite. An essential tool for creating visual aids and interactive presentations, PowerPoint supports you in your work so you can achieve your goals. Meeting a client or presenting monthly results to the directors? Create a visually appealing presentation, which will help make your arguments more persuasive.
Whatever business sector you operate in, learn to use PowerPoint effectively to create highly relevant presentations. Bring together the main themes of your presentation and customise it as you wish based on your objectives. Learn to organise your thoughts and bring your presentation to life using animation, graphics and images.
In just a few clicks, share and co-create presentations with others to build your team spirit and organisational skills.

Discover our training courses scheduleContact us

Summary of our PowerPoint training
Quality Training has been running PowerPoint courses for businesses since 2008. We can run the course in your workplace or in our own training centre. This course will help your staff to:
Learn to use PowerPoint with ease;
Create an effective and concise PowerPoint presentation;
Save time when presenting their projects.

Learning to create a professional PowerPoint
Do you have an important meeting with your managers or clients where you want to make an impression? Quality Training will provide you with tips to create a high-quality presentation.
Grabbing your audience's attention
The goal of a PowerPoint presentation is to give more shape and weight to your argument. Our experts here at Quality Training will give you the key to starting your presentation on the right foot and grabbing your audience's attention. The first slides in your presentation must be highly relevant and spark interest in the group. You'll learn to capture their attention in just a few seconds and retain it throughout the presentation.
Creating appealing and relevant slides
The next key element is the design and flow of your presentation. We offer a detailed course on formatting your PowerPoint presentation and using keywords to make an impression. Add photos, graphics and diagrams to spark audience curiosity. Quality Training equips you with best practice techniques for creating attractive slides that include all essential information without overloading them.
Our goal: adhere to your company's brand identity so you can create consistent and aesthetically pleasing PowerPoint presentations.

Discover our training courses scheduleContact us

Bring your PowerPoint presentations to life
How can you make your presentation dynamic and compelling? Quality Training has a whole load of tips to bring your slides to life and create transitions to help your ideas to flow. Snappy text, keywords, persuasive arguments – our PowerPoint training will cover all these elements and more.
To avoid overloading slides or using over-the-top animation effects, we'll guide you in the key steps involved in formatting your presentation. The aim of your presentation must be clear, explicit and understood by your audience. If you overload your slides, you run the risk of losing the audience's attention and not meeting your objectives. Include the key ideas in your presentation and develop them orally rather than just reading the contents of the slideshow.
Presenting a PowerPoint isn't so easy when you don't know the basics. Quality Training will support you in developing your PowerPoint presentation skills for both professional and personal purposes.
Why work with Quality Training?
First of all, many people don't understand all of the features provided in PowerPoint. If you know how to format your presentation, it's much more likely to stand out from the crowd.
Quality Training also has numerous certifications and is recognised by regional authorities and sector-based subsidy providers for the quality of its training. By choosing us, you're putting your trust in our many years of experience. We've been supporting businesses with their training needs since 2008.
We offer a wide range of courses, covering Word, Excel, PowerPoint, LinkedIn and more. You can also take some of our additional courses.

Discover our training courses scheduleContact us

Quality Training: quality PowerPoint training
As experts in the training world, Quality Training offers high-quality training accredited by the Wallonia regional authorities, certified by QFor, subsidised by Alimento and highly recommended by our students. The QFor certification is a sign of the quality and effectiveness of our teaching. Our team includes leading trainers who are multilingual and office application specialists.
Businesses have been putting their trust in us since 2008. You can sign up for one of our training courses right now! Quality Training works in partnership with sector-specific subsidy providers: Cefora, Alimento, Fopas, Co-Valent, etc.
About Quality Training's courses:
Professional;
Suitable for all business sectors and all levels;
Certified and approved by the Wallonia region.
The aim of our PowerPoint courses is to help you present your projects clearly and elegantly. Our trainers will answer any sector-specific questions your employees might have. Your staff will learn to optimise the visual elements of their PowerPoint presentation to meet their objectives.
Our team also undertake regular training in active teaching methods. Your team members will learn quickly and efficiently thanks to the learning methods we use.
Quality Training's PowerPoint courses are customised
With Quality Training, you can learn at your own pace to suit your objectives. We offer training:
In small groups;
Based on your level.
This means that our trainers can more easily offer personalised support. From the very first course, we'll work through your learning objectives with you and adapt our courses to suit.
Our PowerPoint training: the solution that suits your needs
Here at Quality Training, we focus on your requirements to bring you useful training that meets your needs. Whatever your business sector or level of knowledge, we adapt our training to suit. At Quality Training, we put the emphasis on quality teaching and we offer training in small groups of no more than ten participants. Our training is run in the best possible conditions to encourage learning. Whether you opt for remote or workplace training, we're here to help you learn to use office tools that will increase your productivity at work.
Once you've completed the training, you'll feel confident using PowerPoint to create, personalise and share your presentations in just a few clicks. You'll become a genuine expert with the skills you need to negotiate and put across your arguments in a persuasive way using quality visual aids.
Call us or email us if you'd like to sign up for our PowerPoint course.
As well as PowerPoint training, we run courses in Excel, Word and many other applications. Would you like to take some additional training? Get a full online quotation.

Discover our training courses scheduleContact us

Suggestions for additional courses
We also offer a number of additional courses. We offer a wide range of courses to help your staff to become more confident in their IT skills, including PowerPoint, Excel and Word. Give them the tools they need to work in a more streamlined and efficient way. Save time and increase productivity by training your staff and developing your business with Quality Training. We also provide training in: