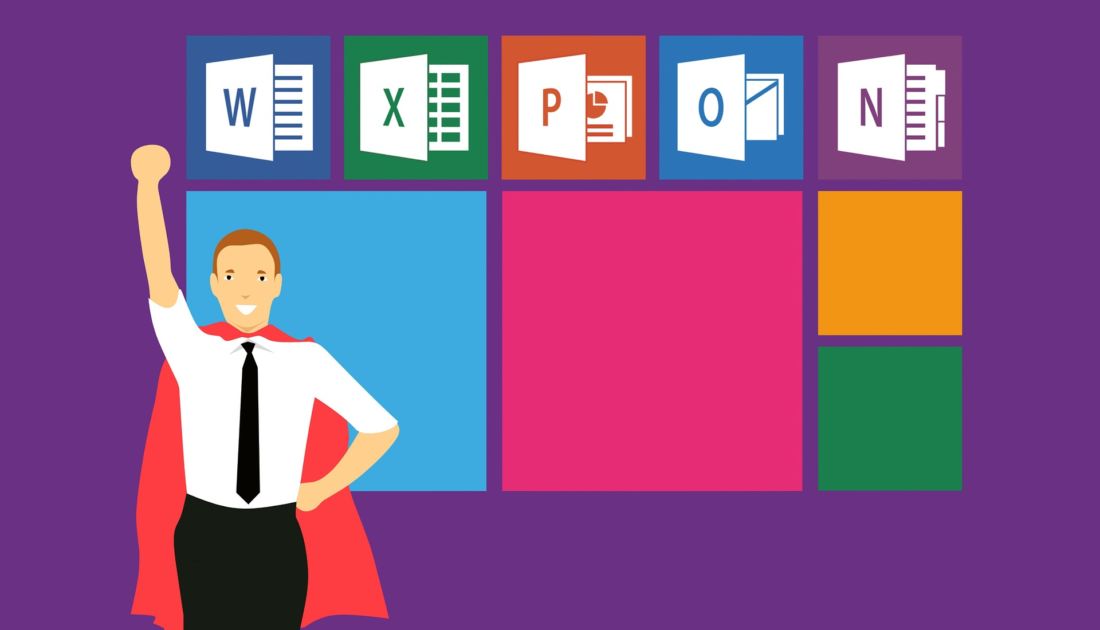 Microsoft Office encompasses all the software designed to assist you in various major office tasks. Their practicality and ease of use make these software applications the stars of the office universe. And now, they are even available on your mobile devices.
Let's take a closer look at the core software applications in the Office suite:
Microsoft Word
Primarily designed for word processing, Microsoft Word has always allowed you to compose texts, reports, or any other type of document. Nowadays, you have the option to convert your documents into web pages, making them accessible to other users. You can also translate documents more easily and quickly, enhancing your efficiency in global collaborations.
Microsoft Word also provides educational tools to help you improve your reading comprehension, regardless of your skill level. It goes beyond simple proofreading and correcting spelling or grammar errors. This software aids in enhancing your writing skills by offering intelligent suggestions through the "Editor" panel.
Microsoft Excel
If you need to create tables, invoices, grade sheets, or simply perform calculations, Excel is your best partner among all the software in the Office suite. It's a smart and practical solution for both experts and beginners. Excel identifies suitable patterns for your data, organizes them automatically, saving you a significant amount of time.
Speaking of time-saving, Excel continues to offer a wide range of useful functions and formulas that can change how you approach your work. The new graph and chart features enhance your presentations. Additionally, with formatting options, tables, and sparkline charts, you can visualize your data more effectively.
Excel also enables more efficient collaboration by allowing you to share your workbooks with others. Moreover, you can now work simultaneously on the same workbook with a colleague.
Microsoft PowerPoint
PowerPoint is the software you need to effortlessly create professional slides. It offers features like "Designer" and "Ideas in PowerPoint" to help you find suitable slides for your needs. You can now add handwritten notes that will be converted into text. Furthermore, there's a feature that acts as a presentation coach, providing recommendations on word choice and speech rhythm.
Collaboration is made easy with PowerPoint through real-time co-authoring functions. Even if you step away for a while, you'll receive feedback on your colleagues' progress upon your return, keeping you updated on the work accomplished.
Microsoft Outlook
Microsoft's excellent task manager, Outlook, accompanies you seamlessly in your daily tasks. It facilitates communication, organization, and successful task completion. With its practical email and personal calendar services, you can keep track of appointments and scheduled events.
Outlook gives you control over your data and privacy, demonstrating transparency in data collection and usage. It doesn't use your conversations, files, or emails to target advertisements.
Outlook also offers free access to other Office suite software, simplifying your collaborations. This way, you can quickly access Word, PowerPoint, or Excel directly from your account.
Microsoft OneNote
OneNote serves as your digital notebook, organized into sections and pages. It helps you better structure your days and thoughts. The easy navigation and search capabilities make it simple to retrieve your notes. You can collaborate and share your notes effortlessly. You can annotate or add comments to each point in your notes. Available on both mobile and desktop versions, OneNote ensures none of your ideas slip away during the day.
Microsoft OneDrive
If you need online storage space and secure file sharing, OneDrive is the solution among all the Office suite software. It enables faster and more efficient file sharing when working in teams. Whether through Teams or SharePoint, you can send files up to 100 GB in size, enhancing collaboration efficiency.
Access your files from all your devices, even offline. Your changes will be saved and applied once you're back online. You can also recover accidentally deleted data or data lost due to hacking or other issues. Your data remains secure and traceable.
Microsoft Teams
Teams allows you to organize conversations and audio or video meetings. You can securely consult, share, and collaborate on files in real time. You can store your notes and video conference replays in the same location.
Switching from a text conversation to a video call is effortless. You can even initiate a video conference with a large number of participants (between 2 and 10,000 people).